"100 MOV" Translation Center is a registered trademark in Ukraine in the service sector related to foreign languages, owned by "PILOT PRODUCTION" Television Production Company, LLC. Our Center is also called a translation bureau or a translation agency. We are a professional provider of services for translation and interpretation, adaptation and localization of web sites, TV and video content, proofreading, dubbing and other services for business – b2b.
Today, "100 MOV" Translation Center is at the forefront of the translation services market. Indeed, as a result of the annual national analysis of the economic indicators of Ukrainian enterprises in 2013-2018, which is carried out by the National Business Rating, our company confidently occupies first places in the nomination "Financial Performance Indicators of Successful Activities" according to the Classifier of Types of Economic Activities (KVED) 74.30 "Provision of Translation Services".
From the moment of creation to the present day, we do not stand still — we have been constantly developing, perfecting our business processes, improving our quality control system, entering new markets and expanding our areas of specialization.
One of the main types of translations is translations in the field of medicine and pharmacology. In 2006, after several years of cooperation, "100 MOV" Translation Center having won the tender signed a long-term contract for translation services with one of the most progressive innovative companies in the field of pharmaceuticals and medical products in the world. Our cooperation continues to this day. It was then that we decided to actively develop and make medical and pharmaceutical translations one of our main specializations. A strong team of subject matter specialists – translators, consultants and editors was created, glossaries were compiled and a base of reference translations was developed, which is constantly updated and updated. In 2007, we launched a targeted advertising campaign; all this together enabled us to quickly take a leading position in the segment of the medical and pharmaceutical translation market.
"100 MOV" Translation Center ("PILOT PRODUCTION" TPC LLC) is registered at many tender platforms and willingly takes part in commercial and government procurement.
If you are not yet a client of "100 MOV" Translation Center, we will be happy to start working with you! We have enough strength and enthusiasm to solve extraordinary problems and take on new projects, as well as find common ground with each client! We appreciate feedback and always readily respond to customer wishes. Our translations are business class translations.
CHARITY AND SOCIAL RESPONSIBILITY OF
100 MOV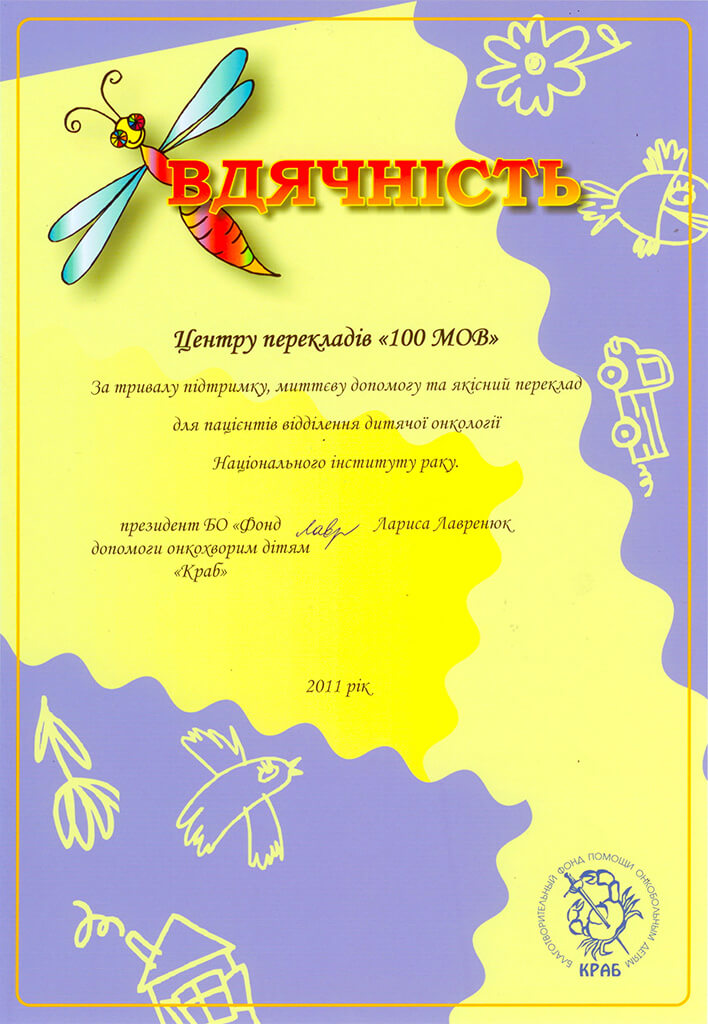 For more than 10 years, "100 MOV" Translation Center has been cooperating with the Charitable Organization Childhood Cancer Foundation "Krab". We translate medical extracts, epicrises, examination results and other documents of young patients into foreign languages for consultation with doctors and further treatment abroad; we support correspondence with foreign clinics. For us, this is a very important and responsible work that requires in-depth knowledge in the field of oncohaematology and oncology in general, as well as the accuracy of terminology and, as a rule, maximum operational efficiency.
We also support the young charges of the Ukrainian Open Association of Organizations, Groups and Persons working with children suffering from cancer "Live tomorrow", which is known as donor.org.ua.
Anyone who has ever looked into the eyes of kids undergoing treatment in paediatric oncohaematology departments is unlikely to remain indifferent in the face of the great tragedy of our little compatriots.
We are always ready to help and use all our knowledge and resources to achieve a common noble goal.
OUR INDISPUTABLE ADVANTAGES
High quality of translations
We have professional translators with experience and a narrow specialization. Strict adherence to international translation standards. All translations are reviewed by the editor. For consultations, specialists in the field of medicine, technology, economics, law, as well as native speakers are involved. Control of the order at all stages – from the moment of launching to the completion of the project. Multilevel quality control. Specialized TM and QA software.
Diversity of topics and services
A full cycle of services, a variety of topics and subject matter specialization of translators. We translate legal documents, financial and accounting documents, texts in the field of science and technology, medicine, pharmacology, biology, chemistry, marketing and advertising materials, websites and much more. Our unique service is professional dubbing and voice-over, as well as localization of corporate video materials in a specialized production studio.
Multilingualism
A wide range of areas of translation and working language pairs. We translate into / from many languages of the world, both common: English, German, Russian, French, Spanish, Italian, Polish, Turkish and rare: Arabic, Japanese, Persian (Farsi), Hindi, Marathi and even Latin. Our team also includes linguists who are native speakers.
Working with urgent projects
Strict adherence to deadlines for fulfilling orders and translation requirements, prompt response to tasks. We have enough resources and capabilities to carry out large-scale urgent translations. Coordinating the simultaneous work of several translators and providing a single "through" editing of the entire text, we translate any volume in a short time.
Price policy
Reasonable price and quality balance. We do not charge extra costs for complexity, subject and language pairs. Convenient calculation of translation costs – our standard translation page is 2000 characters. Flexible discount policy – discounts from 3% to 10% depending on the monthly volume of translations or a one-time order. Various payment methods, loyalty and flexible approach.
We appreciate our clients
An individual approach and attention to each client regardless of the volume of an order, free consultations on fees, terms, procedures of translation and layout, notarization, etc.
We offer corporate clients a personal manager, convenient ways for placing orders, receiving and delivery of documents, payment methods. Keeping information confidential is a prerequisite for our work.
"100 MOV" Translation Center originates from the voice-over and dubbing department of "Studio Pilot" Television Company known since the 90s for the voice-over of the series "ALF" and many other cult TV series, films and cartoons – The Simpsons, Pokemon, James Bond, Sesame Street. Once we realized that there was a potential and a desire to use our abilities not only for "internal" needs, but also for the "external world".
In 2001, it was decided to create a translation agency called "100 MOV" Translation Center. By that time, the translation services market was already well formed, but this did not stop us from gradually finding our niche in the market and gaining a reputation of a reliable and professional partner for many corporate and individual clients. For a relatively short period of time, our Center has achieved great success: the number of languages we work with has significantly increased, we have been able to involve many highly qualified translators to the work and expand the subject matter of translations, and many well-known successful Ukrainian and international companies became our clients. All this allowed "100 MOV" Translation Center to become one of the leading translation agencies in the market of translation services.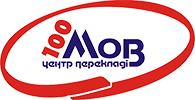 In 2015, "100 MOV" Translation Center performed a rebranding, within the framework of which the logo, website were updated and attractive price offers were developed for corporate and individual clients.
Since the foundation, we have been constantly developing, perfecting the quality control system, and improving interaction in the customer – administrator –– translator –– editor –– consultant chain. Our Center is constantly in search of the best translators of both common and rare languages of the world. Translators, editors, administrators and all our employees do not stop in their professional growth. We have been working with many of them since our foundation and appreciate them as the most expensive asset of the company.
The "100 MOV" Translation Center brand belongs to "PILOT PRODUCTION" Television Production Company, which is a part of Pilot Group. Today we continue to work closely with our colleagues in the dubbing and voice-over department. Thus, we have the opportunity to carry out not only translations and interpretations, but also translate, dub, voice-over and title films, cartoons and any other video materials. Translators and editors specializing exclusively in film translations, sound engineers and professional actors work with us in this area. Therefore, we are happy to help you translate and sound the presentation, training film, commercial, or any other video you need.
Our office is 10 minutes from the centre of Kyiv (Ukraine). Staff editors and translators of the main languages work on an ongoing basis in the office. The private notary's office is located 2 minutes from the office of "100 MOV" Translation Center, which allows us to notarize the translated documents as quickly as possible.
You can send a file to calculate the cost of its translation, and our managers will contact you within 5 minutes on business days.
Free advice by telephone in Kyiv +38 (098) 332 30 40, +38 (050) 238 08 70.